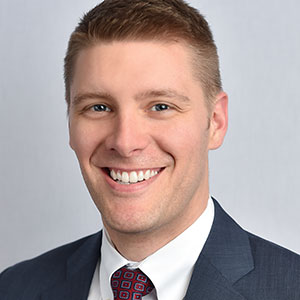 Associate Financial Planner, Carter Financial Management
Professional
Dustin is a Certified Financial Planner™ professional that delivers wealth management and financial planning strategies to high-net-worth clients. Dustin focuses on creating and executing strategies for financial planning and portfolio management, investment due diligence, and developing and managing client relationships for Team Muldoon.
Prior to joining Carter Financial Management, Dustin was with Southwestern Investment Group, where he managed strategic planning and created investment strategies designed to help clients create and manage wealth. He also spent two years with Raymond James as a compliance advisor at the firm's headquarters in St. Petersburg, FL. Using his training as a Registered Principal, Dustin evaluated and advised branch managers across the U.S. on compliant processes and procedures.
Education
Originally from upstate New York, Dustin attended the University of South Florida where he graduated with a Bachelor of Science in Business Administration.
Personal
Dustin currently lives in Dallas, TX with his wife, Alli. He enjoys spending time playing tennis, traveling and taking walks with their dog, Kingsley.