C

arter WealthView is Carter Advisory Services' new planning and reporting system that offers clients easy, anytime access to on-demand financial reporting and analysis from their Internet-connected mobile phones, tablets or personal computers.
Features
Beyond simply providing access to Raymond James account data, Carter WealthView receives automatic updates from linked third-party accounts in order to paint a comprehensive, up-to-date financial picture for clients and their advisors.
In addition to providing modern, easy-to-read net worth statements, cash flow analysis, asset allocation, and insurance summaries, WealthView can produce investment return forecasts based on both randomized and traditional straight-line models.
Clients also have access to their own secure digital "vault" with unlimited, private storage that can be used for important documents such as passports, wills, tax returns, and even priceless family photos.
Easy Setup
Clients being introduced to Carter Wealthview are contacted by a Carter Advisory Services team member to begin linking accounts and accessing reports. Current clients who are ready to log in to Carter Wealthview can click the Carter WealthView link at the top right-hand corner of the page.
If you're a prospective client interested in learning more about Carter WealthView, please contact Carter Financial Management to schedule a demo today!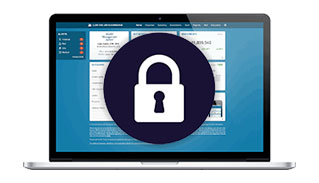 Security
Carter WealthView employs a number of advanced security features that work in the background to keep client data safe, private, and secure.
Your login credentials are completely private – only you will know what they are.
Manual or programmatic hacking attempts are blocked by locking accounts for ten minutes after three unsuccessful login attempts.
256-bit Secure Socket Layer encryption that thwarts unauthorized access by scrambling data as its transmitted over the Internet. 256-bit SSL is the highest level of encryption currently available, and twice the standard followed by many financial institutions, including banks.
Data is housed at secure, geographically disparate data centers with personnel on-site at all times, closed-circuit video surveillance, fire protection, electronic shielding and automated database backups to ensure your data is continuously monitored and protected.
Regular third-party security audits and monitoring by TraceSecurity, Tenable Security, and WhiteHat Security, to identify vulnerabilities and assist with remediation efforts.